Posts for: February, 2020
By Fair Lawn Dental Care
February 12, 2020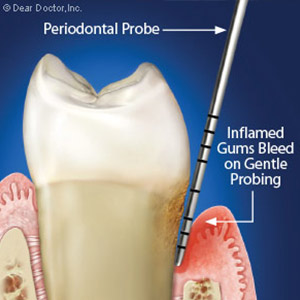 How do you know if you have periodontal (gum) disease? Sometimes your gums will tell you—when they're red, swollen or bleed easily.
But your gums can also look and feel healthy while a gum infection still brews below the gum line. In this case, a regular dental visit could make the difference. Even without overt signs of infection, we may be able to detect gum disease with a slender metal instrument called a periodontal probe.
Gum disease is a bacterial infection that most of the time arises from dental plaque. This thin film of bacteria and food particles accumulates on tooth surfaces, especially because of poor or non-existent oral hygiene. A continuing infection can weaken gum tissues and cause them to pull away or detach from the teeth.
Normally, there's a slight gap between the gums and teeth. But as the infected gums pull away, the gaps grow larger and deeper, forming what are known as periodontal pockets. They become filled with infection that soon spreads to the root and bone and increases the risk of tooth loss.
These pockets, though, could be the means for detecting a gum infection with the help of the periodontal probe. During a dental exam we gently insert the probe, which has millimeter depth markings etched on it, between a tooth and its adjacent gums. While a depth of 1 to 3 mm is normal, a probe measurement of 4 to 5 mm could be a sign of an early stage infection. A reading of 7 to 10 mm, on the other hand, may indicate more advanced disease.
Along with other factors, periodontal probing can be quite useful identifying both the presence and extent of a gum infection and then how to treat it. The goal of any treatment is to remove plaque and tartar (calculus) deposits that sustain the infection. But probing, along with other diagnostic methods like x-rays, could point to deeper infection below the gum line that require more extensive methods, including surgery, sometimes to access and remove the disease.
Achieving the best treatment outcome with gum disease often depends on finding the infection early. Periodontal probing helps to make that discovery more likely.
If you would like more information on diagnosing and treating gum disease, please contact us or schedule an appointment for a consultation.
By Fair Lawn Dental Care
February 02, 2020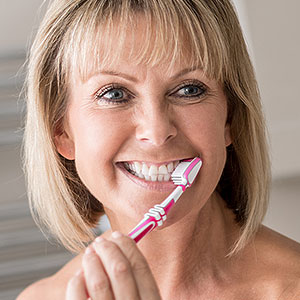 In the world of movies and television, the lead actors get the lion's share of the credit. In reality, though, there wouldn't be much of a show without the supporting cast. You'll find a similar situation in your mouth: While your teeth get most of the attention, another dental structure plays a critical supporting role—your gums.
It's only fitting, then, that we put the spotlight on your gums, especially in February. The second month of the year is Gum Disease Awareness Month, when we highlight the importance of our gums and the dangers they face.
While the gums are an important part of your smile, they're not just for show. Your gums play a critical role in helping to keep your teeth securely attached within the jaw. Their network of blood vessels also supplies nutrients and disease-fighting agents to your teeth. We're not exaggerating, then, when we say your teeth can't survive without them.
But although they're resilient, they do have one major vulnerability: a bacterial infection known as periodontal (gum) disease. Gum disease arises from bacteria that thrive within a thin, built-up film of bacteria and food particles called dental plaque. Untreated, an infection can advance deep into the gums, down to the tooth roots and jawbone.
Gum disease is as much a problem for your teeth as it is for your gums: Weakened gum attachment and loss of bone can put your teeth in danger of being lost. Fortunately, though, there are things you can do to keep gum disease from ruining your dental health.
Brush and floss. To prevent a gum infection, you must keep plaque from building up on your teeth. The best way is a combination of thorough brushing and flossing. Don't neglect the latter, which is necessary to remove hard-to-reach plaque between teeth. And do it every day—it doesn't take long for a gum infection to occur.
Get your teeth cleaned. Even the most diligent hygiene practice may still miss some plaque and its hardened form calculus (tartar). These stubborn deposits, though, are no match for our dental cleaning equipment and techniques. Semi-annual visits are also a good time to evaluate your overall dental health, including your gums.
See us at the first sign of infection. Gum disease is often symptomless, especially in the beginning. But there are signs to look for like gum swelling, redness or bleeding. If you notice any of these, see us as soon as possible. The sooner you begin treatment, the less harm the disease will cause.
Taking care of your gums isn't just good for your dental health—it's good for your overall health and well-being. It also doesn't hurt that your gums are good for your appearance as an important part of a beautiful smile.
If you would like more information about gum disease prevention and treatment, please contact us or schedule a consultation.