Posts for: November, 2017
By Fair Lawn Dental Care
November 20, 2017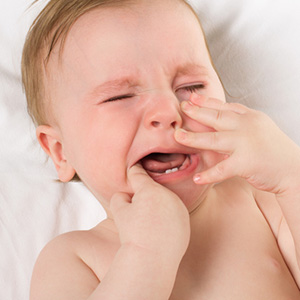 Teething is a normal part of your baby's dental development. That doesn't make it less stressful, though, for you or your baby.
This natural process occurs as your child's primary teeth sequentially erupt through the gums over a period of two or three years. The first are usually the two lower front teeth followed by the two upper front ones, beginning (give or take a couple of months) between six and nine months. By the age of three, most children have all twenty of their primary teeth.
The disruption to the gum tissues can cause a number of unpleasant side effects including gum swelling, facial rash, drooling, disrupted sleep patterns and decreased appetite. As a result a child can become irritable, bite and gnaw to relieve gum discomfort or rub their ears. Every child's experience is different as well as their degree of pain and discomfort.
As a tooth is about to erupt, you may notice symptoms increasing a few days before and after. The symptoms will then subside until the next tooth begins to erupt. In a way, teething is much like a storm—you mostly have to ride it out. However, that doesn't mean you can't lessen your child's discomfort during the teething episode.
For one thing, cold, soft items like teething rings, pacifiers or even a clean, wet washcloth your child can gnaw on will help relieve gum pressure. Chilling the item can have a pain-numbing effect—but avoid freezing temperatures, which can burn the tissues. You can also massage the gums with a clean finger to relieve pain. But don't rub alcohol on their gums and only use numbing agents (like Benzocaine) for children older than two, and only with the advice and supervision of your healthcare provider. The use of acetaminophen or ibuprofen might also be used under the advice of your doctor.
If you notice your child has diarrhea, extensive rashes or fever, contact your physician immediately—these aren't normal teething symptoms and may indicate something more serious. And be sure to consult with us if you have any other questions or concerns.
Teething can be a difficult time for your baby and family. But with these tips and a little "TLC" you can keep their discomfort to a minimum.
If you would like more information on caring for your baby's developing teeth, please contact us or schedule an appointment for a consultation. You can also learn more about this topic by reading the Dear Doctor magazine article "Teething Troubles: How to Help Your Baby be Comfortable."
By Fair Lawn Dental Care
November 12, 2017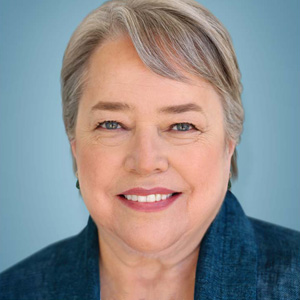 In her decades-long career, renowned actress Kathy Bates has won Golden Globes, Emmys, and many other honors. Bates began acting in her twenties, but didn't achieve national recognition until she won the best actress Oscar for Misery — when she was 42 years old! "I was told early on that because of my physique and my look, I'd probably blossom more in my middle age," she recently told Dear Doctor magazine. "[That] has certainly been true." So if there's one lesson we can take from her success, it might be that persistence pays off.
When it comes to her smile, Kathy also recognizes the value of persistence. Now 67, the veteran actress had orthodontic treatment in her 50's to straighten her teeth. Yet she is still conscientious about wearing her retainer. "I wear a retainer every night," she said. "I got lazy about it once, and then it was very difficult to put the retainer back in. So I was aware that the teeth really do move."
Indeed they do. In fact, the ability to move teeth is what makes orthodontic treatment work. By applying consistent and gentle forces, the teeth can be shifted into better positions in the smile. That's called the active stage of orthodontic treatment. Once that stage is over, another begins: the retention stage. The purpose of retention is to keep that straightened smile looking as good as it did when the braces came off. And that's where the retainer comes in.
There are several different kinds of retainers, but all have the same purpose: To hold the teeth in their new positions and keep them from shifting back to where they were. We sometimes say teeth have a "memory" — not literally, but in the sense that if left alone, teeth tend to migrate back to their former locations. And if you've worn orthodontic appliances, like braces or aligners, that means right back where you started before treatment.
By holding the teeth in place, retainers help stabilize them in their new positions. They allow new bone and ligaments to re-form and mature around them, and give the gums time to remodel themselves. This process can take months to years to be complete. But you may not need to wear a retainer all the time: Often, removable retainers are worn 24 hours a day at first; later they are worn only at night. We will let you know what's best in your individual situation.
So take a tip from Kathy Bates, star of the hit TV series American Horror Story, and wear your retainer as instructed. That's the best way to keep your straight new smile from changing back to the way it was — and to keep a bad dream from coming true.
If you would like more information about orthodontic retainers, please contact us or schedule an appointment for a consultation. You can learn more about this topic in the Dear Doctor magazine articles "Why Orthodontic Retainers?" and "The Importance of Orthodontic Retainers." The interview with Kathy Bates appears in the latest issue of Dear Doctor.