Posts for: December, 2020
By Fair Lawn Dental Care
December 20, 2020
When you were a kid, a plate of green beans or carrots probably seemed less appealing than a handful of cookies or a bowl of ice cream. Mom or dad telling you to "eat your vegetables" was the last thing you wanted to hear.
Hopefully, you've made friends with fresh fruits and vegetables as you've grown up. But even if you're just acquaintances, these foods are nonetheless essential to good health, particularly your teeth and gums. Among other things, they're packed with vitamins and minerals that help prevent tooth decay, gum disease or even oral cancer.
Here's a sampling of dental health-boosting micronutrients and the foods you'll find them in.
Vitamin C. Found in a variety of fruits and vegetables, vitamin C boosts the immune system to fight infections like tooth decay or gum disease. It's also an antioxidant that lowers your risk of cancer.
Calcium. This mineral obtained through dairy products, bony fish, greens and legumes, strengthens teeth and bones. It can also improve nerve and muscle function.
Vitamin D. This vitamin helps teeth absorb calcium to make them less prone to decay. You can find this essential vitamin in dairy foods, eggs, fatty fish or sunlight.
Phosphorus. Like calcium, phosphorus also strengthens teeth and bones. You'll find it plentiful in dairy and meats, especially seafood and poultry.
Magnesium. This mineral helps teeth and bones absorb other minerals and can also help with enzyme function needed to avoid disease. You'll find it in nuts, legumes, whole grains, dark leafy greens, seafood and chocolate.
If you don't think you're getting enough of these and other nutrients, you can obtain them through dietary supplements. But do be careful: The Food and Drug Administration (FDA) can remove harmful supplements from the market, but only after consumer use has provided evidence that they're unsafe. And, you won't be getting fiber or other elements found in regular foods that your body needs to be healthy and function properly.
Still, if you think you need to supplement a nutritional deficiency, speak first with your doctor or dentist about it and what you should take. If at all possible, though, eat your veggies—your teeth and gums, as well as the rest of your body, will be the healthier for it.
If you would like more information on nutrition's role in dental health, please contact us or schedule an appointment for a consultation. You can also learn more about this topic by reading the Dear Doctor magazine article "Vitamins & Dietary Supplements."
By Fair Lawn Dental Care
December 08, 2020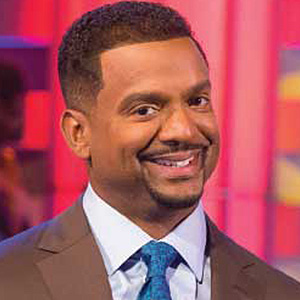 Remembered fondly by fans as the wacky but loveable Carlton on The Fresh Prince of Bel-Air, Alfonso Ribeiro is currently in his fifth year hosting America's Funniest Videos. It's the perfect gig for the 48-year-old actor, who loves to laugh and make others laugh as well. This is quite the opposite experience from one he had a few years ago that he remembers all too well: a severely decayed tooth.
After seeing his dentist for an intense toothache, Ribeiro learned he had advanced tooth decay and would need root canal treatment. Ribeiro wasn't thrilled by the news. Like many of us, he thought the procedure would be unpleasant. But he found afterward that not only was the root canal painless, his toothache had vanished.
More importantly, the root canal treatment saved his tooth, as it has for millions of others over the last century. If you're facing a situation similar to Alfonso Ribeiro's, here's a quick look at the procedure that could rescue your endangered tooth.
Getting ready. In preparation for root canal therapy, the tooth and surrounding gums are numbed, often first with a swab of local anesthesia to deaden the surface area in preparation for the injection of the main anesthesia below the surface. A dental dam is then placed to isolate the infected tooth from its neighbors to prevent cross-contamination.
Accessing the interior. To get to the infection, a small access hole is drilled. The location depends on the tooth: in larger back teeth, a hole is drilled through the biting surface, and in front teeth, a hole is drilled on the backside. This access allows us to insert special tools to accomplish the next steps in the procedure.
Cleaning, shaping and filling. Small tools are used to remove the diseased tissue from the interior tooth pulp and root canals. Then the empty spaces are disinfected. This, in effect, stops the infection. Next, the root canals inside the tooth are shaped to allow them to better accept a special filling called gutta percha. The access hole is then sealed to further protect the tooth from future infection, and a temporary crown is placed.
A new crown to boot. Within a couple weeks, we'll cap the tooth with a long-lasting lifelike crown (or a filling on certain teeth). This adds further protection for the tooth against infection, helps strengthen the tooth's structure, and restores the tooth's appearance.
Without this procedure, the chances of a tooth surviving this level of advanced decay are very slim. But undergoing a root canal, as Alfonso Ribeiro did, can give your tooth a real fighting chance.
If you would like more information about root canal treatments, please contact us or schedule a consultation. To learn more, read the Dear Doctor magazine articles "A Step-By-Step Guide to Root Canal Treatment" and "Root Canal Treatment: How Long Will It Last?"