Posts for: February, 2021
By Fair Lawn Dental Care
February 20, 2021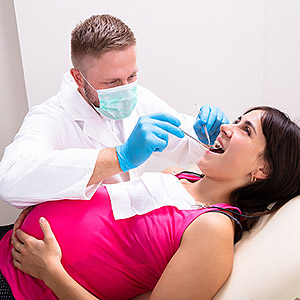 Learning you're pregnant can change your life in a heartbeat—or now two. Suddenly, what was important to you just seconds before the news takes a back seat to the reality of a new life growing within you.
But although many of your priorities will change, there's one in particular that shouldn't—taking care of your dental health. In fact, because of the hormonal changes that will begin to occur in your body, your risk of dental disease may increase during pregnancy.
Because of these hormonal variations, you may find you have increased cravings for certain foods. If that includes eating more carbohydrates (especially sugar), bacteria can begin to multiply in your mouth and make you more susceptible to tooth decay and periodontal (gum) disease.
The hormones in themselves can also increase your risk of gum disease in particular. There's even a name for a very common form of gum infection—pregnancy gingivitis—which affects around two-fifths of pregnant women. If not treated, it could aggressively spread deeper within the gums and endanger both your teeth and supporting jaw bone.
The key to minimizing both tooth decay and gum disease is to keep your mouth clean of dental plaque, a thin bacterial biofilm most responsible for these diseases. You can do this by keeping up daily brushing and flossing and maintaining regular dental cleanings and checkups. Professional dental care is especially important during pregnancy.
You may, though, have some reservations about some aspects of dental care, especially if they involve undergoing local anesthesia. But many medical organizations including the American Congress of Obstetricians and Gynecologists and the American Dental Association recommend dental treatment during pregnancy. Even procedures involving local anesthesia won't increase the risk of harm to you or your baby.
That said, though, elective dental work such as cosmetic enhancements, might be better postponed until after the baby is born. It's best to discuss with your dentist which treatments are essential and should be performed without delay, and which are not. In general, though, there's nothing to fear for you or your baby continuing your regular dental care—in fact, it's more important than ever.
If you would like more information on dental care during pregnancy, please contact us or schedule an appointment for a consultation. You can also learn more about this topic by reading the Dear Doctor magazine article "Dental Care During Pregnancy."
By Fair Lawn Dental Care
February 10, 2021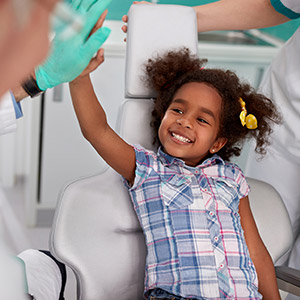 By the time your child reaches their first birthday, they may have only a handful of primary teeth. So, should you schedule their first dental visit or wait until they're older?
Absolutely schedule it—a dental visit at age one is one of the most important steps you can take to protect and promote your child's dental health. Starting routine dental care at this early stage can help ensure they enjoy healthy teeth and gums now and in the future. Here's why.
Keeps you a step ahead of tooth decay. Children can experience a rapidly advancing form of tooth decay called early childhood caries (ECC). If not prevented—or treated promptly should it occur—ECC can quickly destroy primary teeth. If they're lost prematurely, future permanent teeth may not erupt properly. Regular dental visits can help prevent or diagnose decay before it causes major damage.
Intercepts problems before they grow. Dental problems, especially bite-related, usually appear in late childhood or early adolescence. But they can start much earlier with signs only a dentist might be able to detect. Early treatments can correct or minimize a developing bite problem, saving you and your child more extensive treatment later.
Reduces your child's dental visit anxiety. The dental office can be an unfamiliar environment for a child that can trigger anxiety. But children who start dental visits sooner rather than later are more apt to adapt and view visiting the dentist as a routine part of life. You may also want to consider a pediatric dentist who not only specializes in children's dental care and development, but may also promote a "kid-friendly" treatment environment.
Promotes the importance of dental care. Beginning regular dental visits shines the spotlight on your child's dental needs and development. As a caregiver, you can gain important insight and support from your dentist toward ensuring your child's teeth stay healthy and develop normally. As a side benefit, increased attention on your child's dental care may increase the same for your entire family.
The first years of a child's life sets the foundation of their dental health for the rest of their lives. You can help make sure that foundation is as sound as possible by beginning early dental visits.
If you would like more information on effective dental care for children, please contact us or schedule an appointment for a consultation. You can also learn more about this topic by reading the Dear Doctor magazine article "Age One Dental Visit."