Posts for: June, 2021
By Fair Lawn Dental Care
June 20, 2021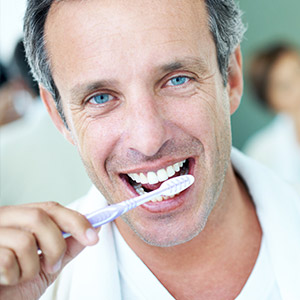 Your teeth can take decades of daily biting and chewing and not miss a beat. But they do have a nemesis, dental disease, which can easily get the upper hand. As a result, millions of people lose teeth each year to tooth decay and periodontal (gum) disease.
But while both the living tissue that makes up teeth and gums are susceptible to bacterial attack, the non-living materials in a life-like dental implant are impervious to disease. That being the case, you would think your implants wouldn't need as much hygiene as your other teeth.
But they still do. True, implants in themselves aren't affected by infection, but the bone and other tissues that support them can become diseased. This often happens with advanced cases of gum disease.
There is, in fact, a particular form of gum infection associated with implants called peri-implantitis ("peri"—around; "it is"—inflammation), which occurs in the gums around an implant. Once it starts, peri-implantitis can advance at a rapid pace.
This is because implants don't have the gum attachment of real teeth, which can fight and slow the advance of a gum infection. Because an implant doesn't have this attachment, any infection around it continues virtually unimpeded. If the bone supporting an implant becomes infected, it can weaken to the point that the implant fails.
But this dire scenario can be avoided with continuing hygiene and maintenance of the gum tissues surrounding the implant. You should brush and floss every day around implants to remove dental plaque, the bacterial film most responsible for dental disease, just as you do with natural teeth.
It's also important to keep up regular dental visits for cleanings to remove lingering plaque and tartar (hardened plaque). Your dentist may also notice and clean away any residual cement from the restoration, which can also cause gum inflammation.
And, you should promptly see your dentist if you notice any telltale signs of a gum infection, such as swelling, redness or bleeding, especially around implants. The quicker we diagnose and treat a case of gum disease, particularly peri-implantitis, the less likely it will endanger your implant.
If you would like more information on maintaining dental implant restorations, please contact us or schedule an appointment for a consultation.
By Fair Lawn Dental Care
June 10, 2021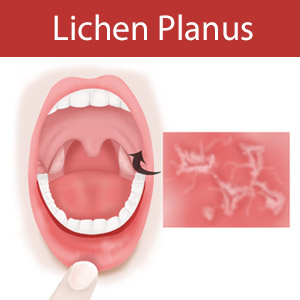 Most of what goes on inside our mouths—good or bad—is fairly predictable. But every now and then, people encounter something out of the ordinary. A good example is lichen planus.
Lichen planus are rare skin lesions that can occur on various parts of the skin, including inside the mouth. The name comes from their lacy appearance, which resembles a fungus that grows on rocks or trees called lichen.
Being similar in appearance, though, is all that lichen planus has in common with its fungal namesake. It's believed that the sores are caused by a reaction of the immune system mistaking some of the body's cells as foreign.
But don't let the exotic sounding name alarm you—true lichen planus is considered a benign mouth sore. You may not even realize you have it until your dentist notices and points it out. But the lesions can sometimes cause mild pain or burning, especially if they occur near the gums or if you indulge in spicy or acidic foods.
As we said, these lesions aren't considered dangerous. But in a small number of cases, oral cancer was found to develop later. It's unclear whether the lesions were related to the cancer, or if what were diagnosed as lichen planus lesions were actually pre-cancerous cells mimicking the appearance of the benign sore.
In any event, your dentist will probably continue to monitor the lesions and possibly conduct regular oral cancer screenings to be on the safe side. You may also want to stop using tobacco or alcohol products to further decrease your risk of oral cancer.
As to managing lichen planus, it starts with a daily habit of brushing and flossing. You'll also want to avoid spicy or acidic foods like citrus fruits, tomatoes, peppers or caffeinated drinks, especially during flareups. If the lesions are causing discomfort, your dentist may also prescribe a topical steroid to apply to them.
Since it's quite possible you won't know if you have lichen planus (as well as other types of mouth sores) unless your dentist observes them, you should keep up regular dental visits. Having your dentist check your entire mouth, not just your teeth and gums, will help both of you stay on top of your oral health.
If you would like more information on mouth sores, please contact us or schedule an appointment for a consultation. You can also learn more about this topic by reading the Dear Doctor magazine article "Lichen Planus."